OCD.


91% see results within a week.
A clinically proven solution, with daily exercises that only take up 3-4 minutes of your day
Be kind to your mind, try it:
⭐⭐⭐⭐⭐ Trusted by over 10,000 people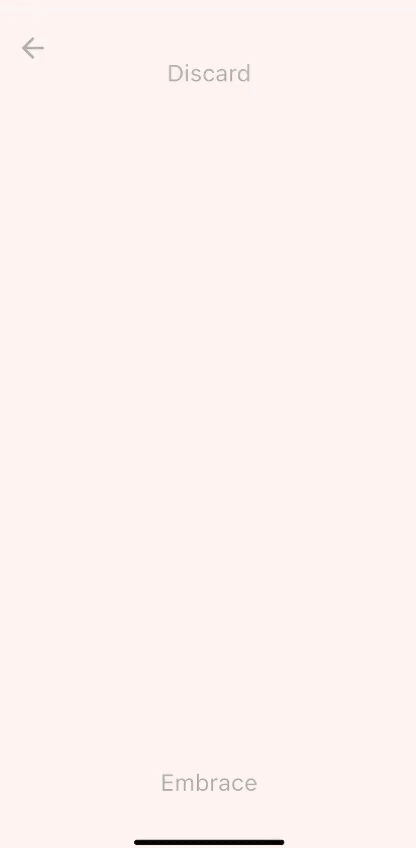 Comparison vs. alternatives
| | | |
| --- | --- | --- |
| | | |
| | | |
| | | |
| | | |
| | | 91% see first results within a week |
| | | |
| | | 4.8 / 5.0 (2,635 reviews) |
Why you are going to love ocd.app?
⭐⭐⭐⭐⭐ "Revolutionary"
"I love this app! I tried pretty much everything… but this one, it helped me so much with my OCD. I highly recommend it to anyone who struggles with OCD. It's helped me to track my progress, set goals, and stay on track. I'm so grateful for this app!"
— Bella Gibbons
⭐⭐⭐⭐⭐ "It works"
"This is my first review for an app and I am an 10+ years iPhone user. When I find myself overthinking, overstressing, and over anything that deals with anxiety, OCD, etc., the phrases or statements on this app pops up in my head to remind myself that everything will be ok."
— Conor P
⭐⭐⭐⭐⭐ "Super easy"
"I never thought I could get my OCD under control, but this app makes it so easy. I can manage my intrusive thoughts and they don't seem so bad anymore. Thank you for making something for people who suffer."
— Chris Wurth
How it works
Break Negative thinking patterns
Recent studies show that Digital Cognitive Behavioral Psychology is one of the most effective methods for breaking maladaptive thinking habits related to OCD.
Exercise for 3-4 minutes a day
Our mind can play us tricks, but with the right methods we can make it our friend. Supportive thinking means we develop the most helpful inner monologue and use it when we need it.
Enjoy mental wellness
Our team of psychologists led by Prof. Guy Doron designed the world's most credible OCD App. The app has 12 published papers that shows it's positive effect on your mental health and wellness.
Select your goals
Mental wellness has many aspects. Select you main areas you would like to work on. We will personalize the app based on your selection.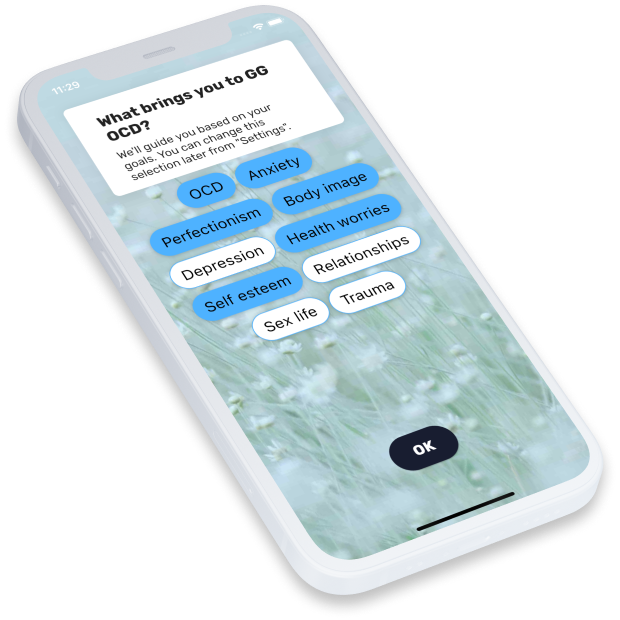 Check your daily exercise
Each new days brings new challenges – and a new exercise. It's not easy to form good habits, but we guide you through, one step at a time.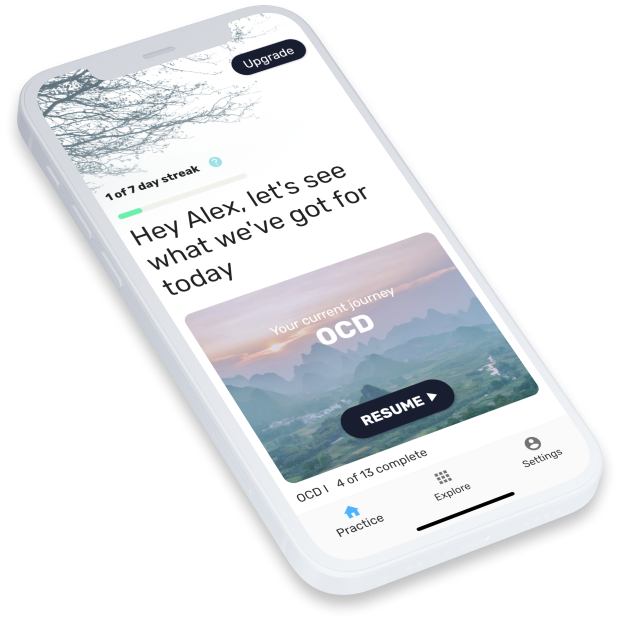 Embrace supportive thoughts
Swipe down supportive thoughts. Swipe up negative thoughts.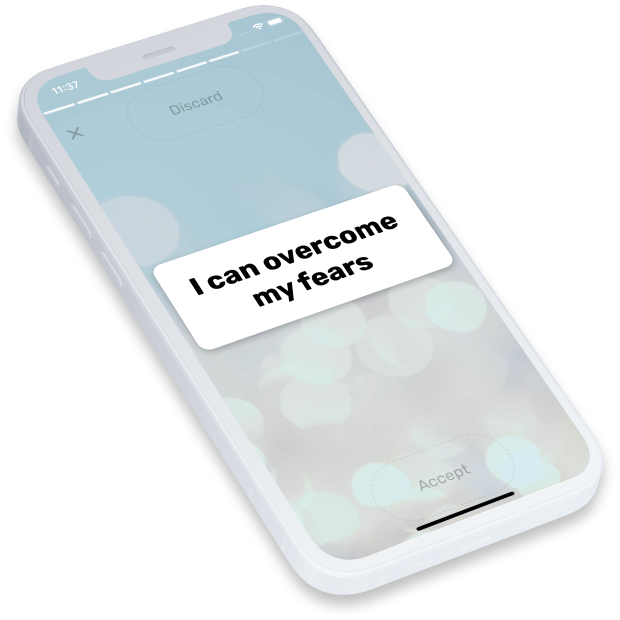 Complete your daily goal
After completing your recommended daily exercise, you can get back to real life – equipped with supportive thinking and ready to cope with any challenge.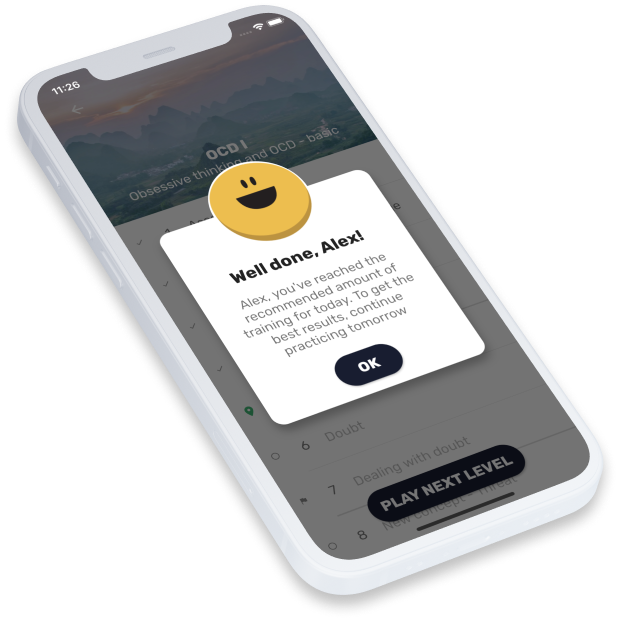 See your progress
It takes time to build a habit, but with some consistent perseverance, in 14 days you should start seeing results: less negative thoughts and an increase in supportive thinking.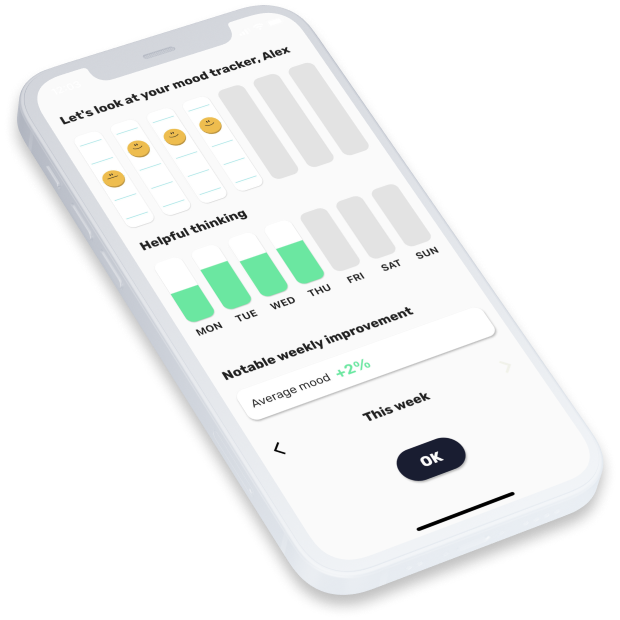 New advancements in AI have the potential to positively impact people with OCD in several ways, including: What about risks? There are several risks associated with the use of AI in mental health care, particularly for individuals with OCD. Some of these risks include: What about risks that are more specific to OCD? While many…
Be kind to your mind, try it: